Pastoral
Our House System at Heyford Park School enables our students to be Ready, Respectful, Kind and Safe. We know each of our students well and this allows them to flourish as competent and confident individuals with a 'Can do' attitude.
The House System fosters a sense of pride, belonging and identity within their class, house and school which extends to a partnership with the local community. We recognise and celebrate the success of each individual, challenging and supporting them to be their best selves. At every stage we prepare all of our learners to make the right decisions for their futures.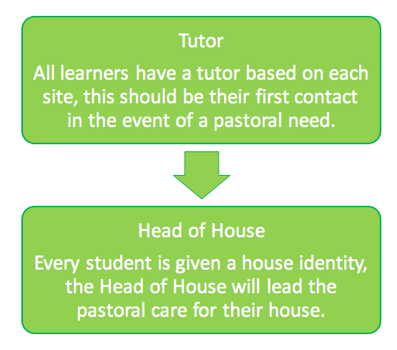 There are three Head of House at Heyford Park School. Their role is to ensure that the School's values and standards are promoted and maintained throughout every aspect of the school day.
The Heads of House monitor the progress of each student in their year group and work closely with families to support students throughout their school life. Mr Hobbs (Director of Pastoral Care), overviews the work of the Heads of House and holds overall responsibility for excellent standards of behaviour and attendance across the school.

The Head of House are supported by a team of tutors who meet with their tutor groups for fifteen minutes every morning and afternoon every day. During this time, students undertake tutor activities such as numeracy, literacy and a house quiz, whilst tutors are able to spend time with individuals and groups of students to monitor their academic progress, attendance and wellbeing. Any additional intervention needed by individual students can also take during this period of daily tutor time.
The main work of the Head of House, with the support of tutors, is to monitor the academic progress, attendance and pastoral wellbeing of each student within their house. Through this support team, students will be guided appropriately through the key stages of their time with us – for example, transition from Primary School, choosing GCSE Options, advice on work experience placements and post-16 possibilities.
Head of Houses
Bader
Mr Hobbs
jhobbs@heyfordparkfreeschool.org
Lindh
Miss Baines
pbaines@heyfordparkfreeschool.org
McGuire
Miss Gibson​sgibson@heyfordparkfreeschool.org